Geosciences Departmental News  
Geosciences' Rabindra Parajuli and Professor Markwith Published in the Biological Conservation Journal
The study titled, "Quantity is foremost but quality matters: A global meta-analysis of correlations of dead wood volume and biodiversity in forest ecosystems" focuses on how dead wood is crucial for forest biodiversity. This study uncovered that on top of dead wood quantity, dead wood quality attributes are critically important for the biodiversity of dead wood-dependent species and hence, should be given priority in forest management and biodiversity conservation interventions. Read more.
Professor Caiyun Zhang Published in Environmental Research Letter Journal
The study titled, "Linking repeat lidar with Landsat products for large scale quantification of fire-induced permafrost thaw settlement in interior Alaska" focuses on quantifying fire-induced thaw settlement at large scales (>1000 km2) by exploring the potential of using Landsat products for estimation of fire-induced thaw settlement across a well-studied area representative of ice-rich lowland permafrost in interior Alaska. Read more.
Professor Serves as Expert on Panel: The Future of Food: Stories from the Field
Dr. Jill Tiefenthaler, President of the National Geographic Society, sits down with Explorers Dr. Maria Fadiman, FAU Professor of Geosciences, and Dr. Victoria Herrmann for a special discussion to share stories about their experiences seeing the intersection of food, geography, and culture around the world. Watch here.
Erik Johanson Interviewed by Local 10 News About Record-Breaking Heat
Erik Johanson, Ph.D., Assistant Professor of Geosciences, was interviewed by WPLG Local 10 about climate change, in particular, the record-breaking heat in Florida, and its impacts across the state. Watch here.
GEOPATHS Inspirational Summer Program
Through a competitive application process, four high-achieving Palm Beach State College students were selected to participate in the inaugural GEOPATHS Inspirational Summer Experience. The program provides students with the opportunity to learn about high-impact practices and cutting-edge techniques used by geoscientists.Read more.
FAU Geoscience Ph.D. Students Win at Annual Florida Society of Geographers Conference
Two FAU Charles E. Schmidt College of Science students were winners of the 58th annual Florida Society of Geographers Awards. Department of Geosciences Ph.D. candidates Asha Paudel won the "Outstanding Oral Presenter, Ph.D." award, and David Brodylo received the "Outstanding Poster Presenter, Ph.D." award. Read more.
Field Camp in Southern Appalachians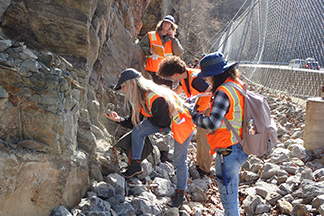 Geoscience undergraduate students visited the southern Appalachians as part of the GLY4750 Field Method Course during a nine-day trip over Spring Break. The 11 students explored Cove Lake State Park, Davidson River Campground, and Santee State Park. The class studied sites of geological interest to practice field techniques. View photos.
In Memoriam: Dean J. Monette, Ph.D.
Dean Monette was a true FAU Owl. He graduated with three degrees from FAU, a B.S. in Biological Sciences (2004), an Environmental MBA (2006), and a Ph.D. in Geosciences (2014).  He was passionate about the academic environment at FAU, making the most of the opportunities FAU provided, and encouraging his graduate student peers and the undergraduate students he taught and mentored to follow his lead and achieve to their fullest potentials. Read more.
U.S. DOE Exploratory Grant for Novel Radar Prototype
Scientists from the Department of Geosciences have received an exploratory grant from the United States Department of Energy for a novel ground-penetrating radar prototype to efficiently identify hot spots and hot moments for biogenic gas accumulation and release in the subtropical peat soils of Florida's Everglades. Read more.
Dinosaurs' Last Spring: Study Pinpoints Timing of Asteroid Impact
A groundbreaking study led by researchers in the Schmidt College of Science Department of Geosciences and an international team of scientists conclusively confirms the time year of the catastrophic Chicxulub asteroid, responsible for the extinction of dinosaurs and 75 percent of life on Earth 66 million years ago. Read more.
FAU Experts for the 2021 Hurricane Season
With hurricane season in full force, several FAU Department of Geosciences faculty experts are available to discuss various issues surrounding hurricane preparedness, evacuation and aftermath. Read more.
Xavier Comas Published in Geology
Xavier Comas, Ph.D., is a Professor in FAU's Department of Geosciences whose research was published in Geology. Read more.
Student Spotlight with Andrés Garzón-Oechsle
Pursuing a Ph.D. in Geosciences, Andrés Garzón-Oechsle works with faculty member Erik Johanson, Ph.D., in the Environmental Change Lab. Previously, he received a B.A. in Anthropology at Indiana University and an M.A. in Anthropology at FAU. Andrés'  research involves understanding the magnitude and intensity of past human occupations in the cloud forests of Manabí in coastal Ecuador. Read more.
Maria Fadiman, Ph.D., Promoted to Professor
Maria Fadiman, Ph.D. has been an FAU faculty member for the past fifteen years and was promoted to Full Professor in the Department of Geosciences. Fadiman's research involves ethnobotany, the relationship of people with plants. Read more.
Resilience of the Florida Bay Estuary Study
Mason Smith, a geosciences Ph.D. student, and collaborators, including his advisor, professor, Scott Markwith, Ph.D., published a paper in Marine and Freshwater Research. Read more.
Webinar:Careers of Women in GIS: How to Explore Your Career Niche
Join the upcoming webinar, Careers of Women in GIS: How to Explore Your Career Niche, featuring ethnobotanist and FAU professor of geosciences, Maria Fadiman, Ph.D. March 29 at 2:00 P.M. Register here and watch the Maria Fadiman WiGIS Webinar promo here.
Spring 2020 Graduate Sara Durgan, Ph.D., in Geosciences
Congratulations to Sara Durgan, who is earning a Ph.D. in Geosciences. Sara discusses her plans after graduating, "I accepted a position as a Field Data Capture and Unmanned Aircraft System (UAS) Specialist at AECOM in Fort Lauderdale that I start the week after the semester ends. I am thrilled about the position as it is a perfect fit for the skills I have gained while at FAU. I get to continue to fly drones professionally for a wide array of applications.  Read more.
Meet Maria Fadiman, Ph.D., Ethnobotanist
Maria Fadiman, Ph.D., is an ethnobotanist who studies the relationship between plants and people, focusing on conservation and sustainability. Maria serves as an Associate Professor in the Department of Geosciences and is also a National Geographic Emerging Explorer, whose studies take her all over the world. Watch video.
Shore & Beach Magazine's Dedicated Issue with Tiffany Briggs Ph.D.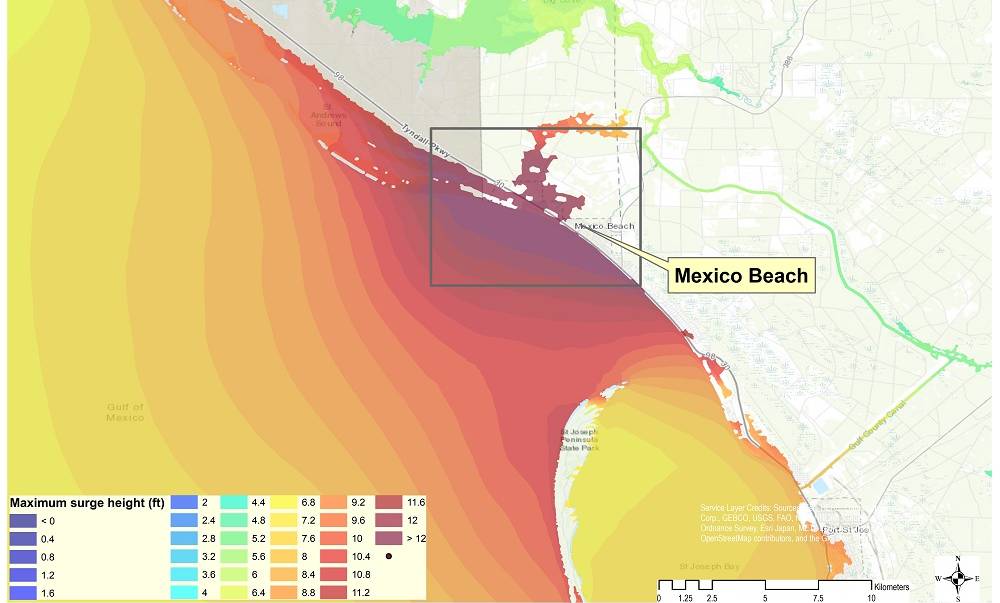 Tiffany Roberts Briggs, Ph.D., an assistant professor of geosciences in the College of Science at FAU works with Lindino Benedet, Principal at Coastal Protection Engineering on the latest issue of "Shore and Beach Magazine." The issue is dedicated to the 2017 and 2018 hurricane season and the scholarly work and scientific research that came about in their wake.  Listen Here


Associate Professor, Dr. Scott Markwith's Helps Save Animals
Associate Professor, Dr. Scott Markwith's research is helping save wild animals from the dangers of busy highways. His research on roadways throughout Florida showed container screens are solutions for highways with the transit of wild animals in areas such as Brazil.  Read more here
The New York Times discusses the research in an article with Dr. Markwith's colleague, Dr. Julio Cesar de Souza.
Read more here
Matt McClellan: A Better Way to Probe Peat
Ph.D. Student Matt McClellan employs a technology called ground-penetrating radar (GPR), which uses high-frequency radar pulses to quickly and noninvasively create below-the-surface images. Matt and his team led by Dr. Xavier Comas used GPR to determine the volume of peat in several depressional wetlands in the Disney Wilderness Preserve in Florida.   https://doi.org/10.1029/2018EO089929
Study Reveals Indigenous People's Choice of Medicinal Plants
Researchers from Florida Atlantic University's Charles E. Schmidt College of Science and collaborators, include Dr. Maria Fadiman of the department of Geosciences, worked with residents of the Kichwa community, the largest indigenous ethnic group in the Ecuadorian Amazon with a population of 60,000.   Read more. 
Congratulations to Sara Denka, a Ph.D. student advised by Dr. Zhang, on winning a NASA FSGC fellow under the Dissertation/Thesis Improvement Program
Congratulations to Meagan Weisner on winning the Student Research Presentation Award (awarded by the Water Resources Specialty Group) in AAG. 
Congratulations to Ph.D. student Molly Smith who won second place in Illustrated Paper Award of RSSG at AAG last week. Her paper is entitled as "Sand Analysis Using a Combined Spectroscopic and Microscopic Technique"