Stay Connected
Department of Geosciences
Florida Atlantic University
777 Glades Road, Boca Raton, FL 33431
Phone: 561-297-3250
Campus Map

About the Program and Industry
The Department of Geosciences at Florida Atlantic University is housed on the Boca Raton campus and offers undergraduate and graduate degrees in various subfields of the geosciences. The three main areas of focus in the department are earth systems science, human-environmental systems and geo-information science.
We are proud of the research specialties that we have developed in hydrogeology, paleontology and paleo-environments, human-environmental modeling, and urban and regional development. The Department places a strong emphasis on fieldwork, GIS, remote sensing and other analytical techniques in geospatial modeling, and encourages interdisciplinary research.
We're Hiring:
---
Department of Geosciences Welcomes New Faculty
Assistant Professor of Hydrogeology Xiaolang Zhang. Read more.
Visiting Assistant Professor Matt Edwards. Read more.
Assistant Professor of Climate Science Yijie Zhu. Read more.
---
Pursue a Degree in Geosciences
Students that study Geosciences have the opportunity to experience all that nature has to offer. And at FAU, the world becomes your classroom - with a strong field-based research component that includes study areas throughout South Florida and across the globe. Learn more.
Highlights
NEW: Online Programs
MS in Geosciences, BA in Geosciences, BS in Geosciences and GIS Certificate  Learn More
Geosciences now offers  online M.S. in Geosciences, B.S. in Geosciences with a Geography focus and B.A. in Geosciences with a Geography focus degrees that will give students an understanding of not only where phenomena are located upon the Earth's surface, but how they came to be there. Geographic Information Sciences (GIS) is emphasized to analyze these spatial relationships.  
Also available to all students are fully online GIS Certificates. 
Preserving Everglades National Park: Peat Soils as a Key to Understanding Climate Change and Saving 'River of Grass'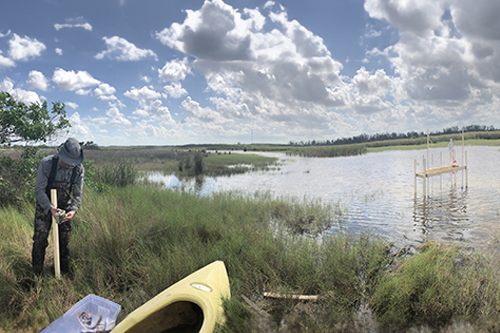 As Everglades National Park celebrates its 75th anniversary this year, Florida Atlantic University scientists are scrambling to save these precious wetlands. One of the researchers leading the way is Xavier Comas, Ph.D., Professor of Geosciences, who understands the dire need to use scientific solutions to protect and preserve these fragile wetland areas for future generations. Read more.
Anton Oleinik, Ph.D., senior author and an associate professor of geology in the Charles E. Schmidt College of Science, suspects it got here as a "stowaway" on a cargo ship in the Port of Palm Beach, and may have attached itself to the hull of a vessel as larva.  Read more.
Outside the Classroom: Exploring the Earth's Natural Laboratory
Outside the Classroom: Exploring the Earth's Natural Laboratory
Fieldwork allows students to expand their knowledge of earth sciences by experiencing the subject in its natural laboratory. Field trips led by Anton Oleinik, Ph.D., associate professor, FAU Department of Geosciences, are a vital part in the life of a geology student. Read more.
Field Camp in Southern Appalachians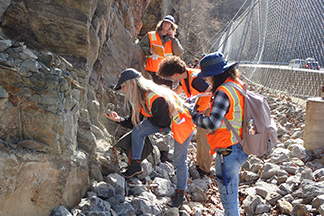 Geoscience undergraduate students visited the southern Appalachians as part of the GLY4750 Field Method Course during a nine-day trip over Spring Break. The 11 students explored Cove Lake State Park, Davidson River Campground, and Santee State Park. The class studied sites of geological interest to practice field techniques.   View photos.