Research Labs and Initiatives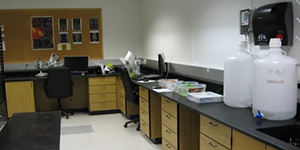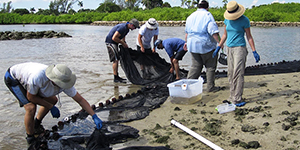 The preeminent theme in the Biogeography Research Lab is the conservation of species, communities, and genetic diversity in the face of unprecedented natural system alteration, especially in freshwater systems disturbed by damming, channelization, levees, and other flow changes and obstructions. Website: http://www.biogeographylab.com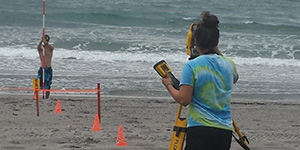 The Coastal Studies Lab at FAU supports field and laboratory research focusing on coastal geology, geomorphology, and sedimentology.  The lab is equipped with state-of-the-art surveying equipment, including a high-accuracy (sub-centimeter) Real-Time Kinematic Global Positioning System (RTK GPS) and a rugged electronic total station, as well as sediment analyses equipment for textural and compositional assessments.  A variety of undergraduate and graduate research projects are supported by the lab, including studies relating to morphologic evolution relating to storm-impacts and beach nourishment, critical ecological functions of healthy beaches (i.e., sea turtle nesting habitat), sediment transport, and coastal resiliency.  For more information, contact Dr. Tiffany Roberts Briggs at briggst@fau.edu.
The Department of Geosciences Environmental Geophysics Labat FAU focuses on near-surface hydrogeophysical methods to investigate a wide array of environmental issues at both the laboratory and field scales, particularly in the Everglades. Projects range from limestone and peat studies in the Everglades and northern peatlands abroad to stratigraphic and archaeological applications. The lab is equipped with state-of-the-art geophysical equipment with an emphasis in electromagnetic methods such as ground penetration radar and terrain conductivity and provides hands-on research opportunities for both undergraduate and graduate students. For further information contact Xavier Comas at xcomas@fau.edu.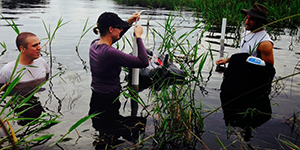 The Water Analysis Lab (WAL) is a core facility at FAU. Its mission is to provide high quality analytical services to support environmental research done by the FAU community and their collaborators. Additionally, the lab places a strong emphasis on providing education and research opportunities for both undergraduate and graduate students. The WAL is equipped with state-of-the-art instrumentation for the determination of nutrients, major ions, metals, and stable isotopes of water. We can perform these analyses on water samples, liquid wastes, or digests of solid materials. We also perform basic soil analyses including, soil particle size, pH, electrical conductivity, and percent organic matter. Through cooperation with the Coastal Studies Lab we also offer determination of both grain size distribution and carbonate composition of granular sediments. For further information contact Dr. Tara Root, troot@fau.edu.
Remote Education and Assessment of Critical Habitats, Reach:
This project was funded by FAU's Technology Fee Program with the aim of bringing the field into the classroom and taking the classroom into the field. We currently maintain three remote environmental monitoring sites in different native habitats on the ecological preserve on FAU's Boca Raton campus. The monitoring sites are used for teaching in the field as well as undergraduate and graduate student research. Data from the monitoring sites is also wirelessly transmitted to a Geographic Information System server. Information Website: https://www.sites.google.com/site/drtararootshomepage/reach Live data website: http://arcg.is/2sXzIos Information Website:  https://www.sites.google.com/site/drtararootshomepage/reach Live data website:  http://arcg.is/2sXzIos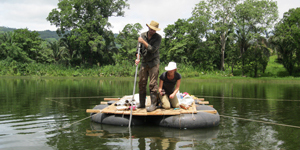 The Environmental Change Lab at FAU studies human-environment interaction and environmental change across the Holocene. The lab uses fieldwork and laboratory methods to reconstruct environmental and climate histories that serve to inform the present. The lab also has projects that model future and past environments. Fieldwork is primarily focused in the Neotropics with projects investigating pre- and post-maize agricultural fire histories, the timing, and pathways of key agricultural domesticates, societal response to multi-decadal drought events, the development of paleoclimate records, reconstructions of past landscapes, and the impact and modeling of climate change. For further information contact Dr. Erik Johanson at ejohanson@fau.edu. 
The Paleoenvironmental Research Lab at FAU Department of Geosciences is dedicated to studies of paleoclimate, paleobiology, and ancient depositional environments, based on the sediment record and fossil archives. Our main goal is to understand changes in Earth's past climate, the evolution of life, and biodiversity in order to be able to predict and model future changes. We employ methods from broad fields of stratigraphy, sedimentology, paleontology, paleoecology, and geochemistry. Our major focus is on the paleoenvironmental records of marine organisms with mineralized skeletons. Lab personnel is involved in scientific SCUBA diving activities related to the research conducted in the lab. Research ranges from documenting critical climate events in the Cenozoic from high latitude to comparative studies of modern and Holocene coral reefs and associated biota in the western Atlantic. For more information contact Dr. Anton Oleinik aoleinik@fau.edu .